Find a project
Collaborative Doctoral Awards (CDAs)
CDAs are co-designed between an M4C university and an external partner organisation. CDAs offer a project with established research aims, responding to particular needs in the cultural, creative and heritage sectors. The supervisory teams are pre-established and are made up of academics from a Midlands4Cities university and a member of the external partner organisation.
A Collaborative Doctoral Award allows you to:
produce a quality thesis under expert academic and partner supervision
gain first-hand experience of partner organisations outside the university environment
enhance employability and skills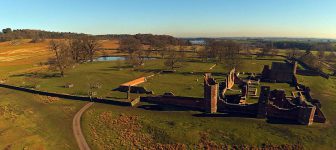 Bradgate Park in a wider world: a historical-archaeological investigation of the colonial connections of an elite estate
University of Leicester
This project examines the connections between an elite estate and the wider colonial world through its gardens and buildings, and materials that flowed through the house and landscapes. A place-based study of empire at home will diversify histories of the countryside and make them accessible to diverse publics.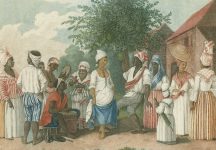 Creolising Caribbean foodways: Breadfruit from the mid-nineteenth century to the present
University of Warwick
When breadfruit was introduced to the Caribbean in the late 18th century to feed enslaved people, it was not a success. Yet it has become embedded in the region's cuisines. Working with the Royal Botanic Gardens, Kew, this project explores how and why breadfruit was adopted and adapted to Caribbean needs – how, in short, it was creolised.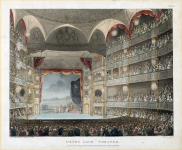 Theatre and the Aristocracy: Passion, Patronage, Power and Politics, 1771-1893
University of Warwick
Woburn Abbey is one of England's 'treasure houses' and has been home to the Russells and the Earls and Dukes of Bedford since the 1620s. This project will interrogate the manifold, complex relationships between the aristocracy and the theatre across six generations of the Russell family between 1771 and 1893.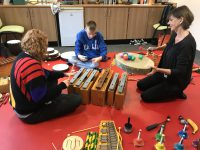 THRIVE – Creative AI for those facing disabling barriers to music engagement.
University of Nottingham
THRIVE aims to investigate how AI can enhance the musical engagement of participants faced with persistent and disabling barriers. By working in partnership with Orchestras Live and Sinfonia Viva through workshops, this project will bring new insights into how AI can break down barriers and support accessible and inclusive music-making.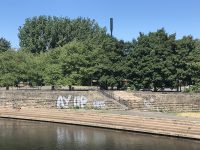 Understanding language heritages, supporting literacies and cultural enrichment
University of Nottingham
A unique opportunity to research language heritages, and to influence the development of cultural educational opportunities in Nottingham, working with Nottingham UNESCO City of Literature. You will develop a theoretical framework for documenting, safeguarding, and supporting multilingual and local English-language heritages to enhance cultural opportunities and support literacies for young people.
Facing up to the Past: Challenging Histories & Changing Future Conversations at the UK British Psychological Society
University of Leicester
Do you want to be part of an exciting opportunity to revise challenging histories and become known internationally for doing so? If so, this project is for you! This is a once-in-a lifetime opportunity to make a big impact with 4 years of AHRC PhD funded-support.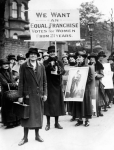 Commemorating the Equal Franchise Act and Historicising Women's Social and Political Lives at National Trust Properties in 1920s Britain
University of Birmingham
This CDA is looking for a PhD researcher to work with academics and National Trust curators, properties, and collections to produce cutting-edge new research and public engagement outputs for the 2028 centenary of the 1928 Equal Franchise Act. This Act finally gave British women the right to vote on equal terms with men, expanding the 1918 Representation of the People Act which enfranchised women over the age of 30 with the necessary property requirements.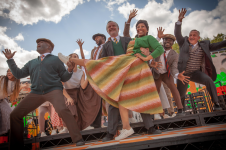 To the Streets: effective interventions in the community arts ecology of the West Midlands.
University of Birmingham
Working with leading theatre producers China Plate, this PhD project will investigate how new modes of practice enable creative communities to work together to make positive change. The research will be rooted in tracking the development and results of forthcoming major projects; which we hope may include; To The Streets, Please Do Not Touch and Trash, as well as China Plate's Training programmes.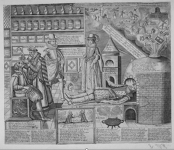 Bathroom to Bedroom: interpreting early modern bodily functions
Nottingham Trent University
Recent work in Early Modern studies aims to pay critical attention to material cultures. But there remains a taboo surrounding the representations of bodily processes / hygiene / sewage etc. This work will relocate the critical focus on the literary representations of bodies and bodily processes as they appear in the work of Shakespeare and his contemporaries.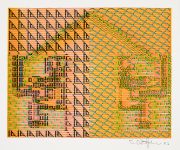 A Poetical Science: Exploring Art, Feminism and Technology through Contemporary Curatorial Practice
Nottingham Trent University
This practice-based curatorial research project explores the intersections of art, technology and feminism, inspired by Ada Lovelace's legacy and Nottingham's industrial textile history. In collaboration with Nottingham Contemporary and Nottingham Trent University, the research highlights historical contributions of women artists working with technology and situated within a genealogy of global artistic production.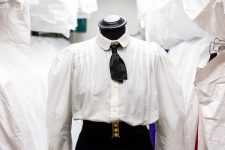 Dressed for the Field: Gender, Bodies, and Society through the Material Culture of Field Hockey, 1880 to the present
De Montfort University
Since field hockey's establishment in the late nineteenth century, its clothing has reflected changing social attitudes to gendered bodies, comfort, and class. Working with The Hockey Museum's (THM) wide-ranging and underutilised textile and printed ephemera collections, this M4C CDA will explore how men and women dressed for the field.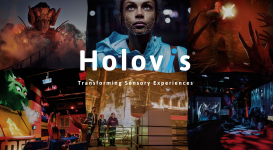 Frameworks of transdisciplinary practice for the creation of interactive & immersive XR experiences, incorporating generative AI & real-time data sources
De Montfort University
Working with Holovis, a global innovator and market leader in immersive & multi-sensory XR solutions for industry, education & entertainment. This research will explore the creation of interactive and immersive environments which integrate generative artificial intelligence (AI) and real-time data sources.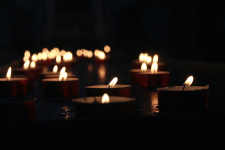 Cross-Cultural Experiences of Grief and Bereavement through a Creative Lens
Coventry University
Working with Cruse, the UK's leading bereavement charity, this project investigates and compares the experiences of grief and bereavement of two distinct cultural/ethnic communities within the West Midlands. It aims to give a voice to traditionally underrepresented groups in social research, obtain new understandings of diverse experiences of grief and bereavement, and inform effective bereavement care.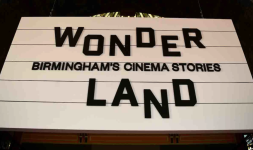 Reframing the suburban cinema: community, memory, and new opportunities
Birmingham City University
This project will explore Birmingham's suburban cinema stories through an engagement with people, places, and artefacts. Further extending Flatpack's Wonderland project, it will collate public memories of cinema, and explore alternative narratives of place and locality to inform new understandings of suburban cinema-going, past, present and possible futures. Flatpack is a charitable organisation with a twenty-year track record of delivering high quality film and arts events, including the annual Flatpack Festival.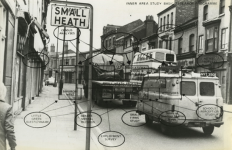 The Incidental Artist approach: contemporary reworkings of the methods and legacies of the Artist Placement Group 1966-1989.
Birmingham City University
How are the ideas and models developed by Artist Placement Group (APG, 1966-89) relevant today, and to future possibilities for the role of artists in society? Working with Flat Time House in London, Eastside Projects and Birmingham City University (BCU), this project will evaluate contemporary experimental projects and generate new understandings of APG's legacy.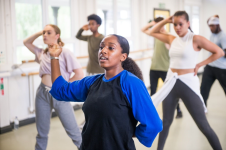 A critical history of British dance teaching: Creating and reactivating the archive of the Imperial Society of Teachers of Dancing (ISTD).
Coventry University
Imperial Society of the Teachers for Dancing (ISTD) is renowned for the teaching of a wide variety of genres and styles including Ballet, Bharatanatyam, Tap Dancing, Ballroom, Street Dance and Salsa. Along with its impact on dance teaching internationally, it has also made a significant contribution to the development of the history of British dance from the early 20th century.